| | | | |
| --- | --- | --- | --- |
| TRAILS CLOSED UNTIL DECEMBER 22nd | | | |
Written by Administrator
Tuesday, 07 December 2010 23:06
PRESS RELEASE                                     
P.O. Box 82
Webster, New York 14580
FOR IMMEDIATE RELEASE­-December 7, 2010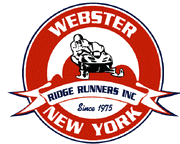 Media Contact:

Christopher Burns, Public Relations Director
(585) 234-3524 // This e-mail address is being protected from spambots. You need JavaScript enabled to view it

 


WEBSTER RIDGE RUNNERS REMINDS SNOWMOBILERS:
TRAILS CLOSED UNTIL DECEMBER 22nd


WEBSTER, NEW YORK
­- Despite fantastic snowfall over the past couple of days, the Webster Ridge Runners Snowmobiling Club is urging snowmobilers in our area to remember and respect that Club-maintained trails
do not open until December 22nd
. One key reason for the timing of trail opening is the official end of muzzleloading and bowhunting seasons on December 21st in this part of New York, another is that the ground beneath the snow has not yet frozen and may represent an unseen soil erosion and/or safety hazard in wet, soft areas.
"While snowmobilers have been waiting for months to get out and enjoy our sport again, we have to remember that Club trails are closed until the week of Christmas regardless of how much snow we have in the meantime," said Christopher Burns, PR Director for WRR. "Our landowner relations team has spent countless hours working with dozens of individual property owners to secure the permissions needed for our trails to traverse their land, and nothing will cause these delicate relationships to end faster than snowmobilers riding when or where they should not be."
In this area, certain sections of marked and maintained snowmobile trails traverse NYS-owned lands and/or roads, but the majority of WRR Club trails are on private property that provides the connective tissue needed for the larger trail system that begins in Webster, and now connects to Macedon in the south, and Ontario and beyond in the east. Without private landowner participation, snowmobile trails become inaccessible.
"Since our trails won't be open for a few more weeks, we're urging our members who want to go snowmobiling right away to trailer their sleds up to the Tug Hill and/or Old Forge areas, where the trails have officially opened this week," said Todd Chapman, President of WRR. "We've worked very hard to expand our local trail system for the 2010-2011 Season, with lots of time invested in preparing the trails. We can't afford to jeopardize access to our trail system for the whole winter season because of impatience to get out after the first major snowfall-- in just a few short weeks, we'll all be able to enjoy the trails!"
In addition to the safety risks of being on property during active hunting season, an additional reason to keep off of snowmobile trails now is that the ground beneath the snow has not yet frozen. Soft ground can be easily damaged in areas where wind the snow cover is thin, and also wet areas and/or streams will not yet be frozen. These muddy or wet areas pose a safety risk for snowmobilers to possibly get their sleds stuck or lose control. Worse, snowmobilers may also risk hypothermia from getting wet in sub-freezing temperatures while trying to dislodge their sled, and will likely find themselves stranded and alone in a remote, isolated area when traffic will otherwise more frequent during the permitted riding season.
The NYS Department of Environmental Conservation (DEC) listing of hunting season dates can be found at:
http://www.dec.ny.gov/outdoor/28605.html
The National Oceanic and Atmospheric Administration (NOAA) Recent Snowfall and Snow Depth Maps can be found at:
http://lwf.ncdc.noaa.gov/snow-and-ice/recent.php?period=1®ion=30&submitted=Submit
# # #


About Webster Ridge Runners


The
WEBSTER RIDGE RUNNERS INC.
(WRR) snowmobile club was founded in December 1975 and incorporated in April 1976. The 40 charter memberships included families and singles from Webster, Penfield, Rochester, Ontario and Walworth. Over the past two and half decades the club has grown steadily to the present membership of over 700 families and individuals, totaling approximately 1400 people. The continuing primary function of the club is to promote safe and responsible sledding through the establishment of the WEBSTER RIDGE RUNNERS trail system. Approximately 40 miles of groomed and maintained trails connect eastern Monroe County to western Wayne County and includes areas of Webster, Penfield, Walworth and Ontario. The Eastern section of the system connects to NYS Corridor Trail #4. The WRR trail committee maintains cooperation and permission with over
80 PRIVATE
landowners.
Learn more about WRR at:
http://www.websterridgerunners.com/
Christopher Burns,
Public Relations Director


Webster Ridge Runners
P.O. Box 82
Webster, New York 14580
This e-mail address is being protected from spambots. You need JavaScript enabled to view it .burns@websterridgerunners.
com

(585) 234-3524
Last Updated on Sunday, 01 February 2015 15:02